S.D. Ponraj Seminar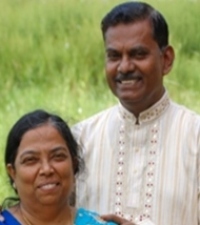 July 21 & July 22. S.D. Ponraj, Hope Seminar, Hinduism, Reaching the Musahars".
·
·
7/21 Saturday
, 8:00 AM to Noon, Confrence,
Reaching the Musars, ("untouchables") in India
Coffee and Pastry in AM, Fellowship Hall.
·
7/22 Sunday, 9:30 - 10:30, Church Planting in Bihar India

In place of Bible Study, Fellowship Hall.
7/22, Sunday, 10:50 – 12:30 Ponraj provides message.

This confrence is open to other churches intersted in evangelsim. .
Confrence Flyers and Invitations were sent by mail. E-mails were sent to Hope Church and other churches to be forwarded.
The history of the Musahar has been one of chronic impoverishment, subjugation, and marginalization. They have struggled to make a living in a society that has classified them as 'untouchables'. After generations of shame and rejection, they are still trapped in poverty. The Musahar are Hindus, and until recently, their religion was largely based on tribal beliefs.
Rev. Ponraj has dedicated much of his ministry at Bihar Christian Church in India bringing the Gospel to these people.
Join us in July for a powerful story of how the Love of God is reaching the Musahar People!

Rev. S.D. Ponraj, Pastor & President of Bihar Christian Church, Bihar, India
•Srinivasan Devasahayam Ponraj has been a cross cultural missionary for the past 40 years working among the tribals and the Hindu people groups in the villages of North India which has been mostly unreached with the Gospel.
•For the first ten years he worked in Gujarat State with Friends Missionary Prayer Band where he saw with his team of missionaries nine different Church Planting Movements started among the tribal people groups. Later he went to Bihar State which was considered as the "graveyard of missions" worked with a network of churches and missions (Bihar Out-Reach Network- BORN) for over twenty years. The Lord blessed his efforts and through the network several Church Planting Movements started among the unreached people groups of Bihar resulting in over hundred thousand people deciding to follow Christ in over five thousand villages.
• Presently Ponraj is the Senior Pastor and the Founder-President of Bihar Christian Church which has over 400 congregations and 100 full time pastors and evangelists and 800 church elders. Ponraj is an author of 12 books on mission subjects and his recent book is "Strategies for Church Planting Movement." The other titles are, "Planting and Perfecting of Churches," "The Mark of a Missionary," "The Biblical Models for Strategic Mission." And "Understanding Hinduism." Ponraj holds B.D., from Serampore University, M.Th. from SAIACS, Bangalore and D.Min from Gordon Conwell Theological Seminary, Boston, USA. Ponraj is married to Sheila and they have three grown up children and seven grand children and they have their residence in Madhupur, Jharkhand State, India.