Announcements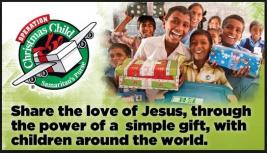 Upcoming News & Events
Christian Center Meal
- Hope Church will be providing a meal at the Christian
Center,
193 Robbins Avenue
in Pittsfield on
Saturday October 21st
. This is a great
opportunity to serve and minister to the local community. Would you be willing to help prepare and serve the meal between
10:15-1:45
, provide a green salad to serve 10, or provide a 9x13 cake with frosting? Please email or call Stacey Crowe at
holycrowe@gmail.com
or
413-553-3539
if you are able to help.
Operation Christmas Child
- A few shoeboxes are available in the foyer.
Note:
the shipping amount has changed to $9 this year. Two new things
not acceptable
in boxes this year are: toothpaste and candy. Boxes need to be back to the church by
November 13
. Questions: contact Stephanie Sayers.
Reformation Book Sale:
Books are for sale before & after service in the Ch. Ed. foyer
Featured books this week:
The Heroic Boldness of Martin Luther
by Steve Lawson $10
Scripture Alone
by RC Sproul $10
Executive Board
- meeting is scheduled for
Thursday, October 26 at 7PM
. This is an important budget meeting. If you cannot attend please let Pastor Doug know.
Sunday School – 9:30 AM, all ages.
Pre-school - 6th grade plus a Nursery for 2 & under.

Children's Department Staff:
Nursery: Suzanne & Deb Ross, Dorinda Shaw.
Pre-School - K: Isabel Greene
Grades 1-3; Eris Kennedy
Grades 4-6: Mark Petell
Adult Classess (Includes Jr. & Sr.):
Adult Classes ~ Includes Jr. & Sr. High Students
Roman Catholicism - Pastor Doug
Church History 1 - Pastor Mike
Decision Making and the Will of God - Steve Ross
First Principles Series 2 Books 3 & 4 - Pastor Sam
Weekly Programs
Monday
~*HERO Builders (boys and their dads) - 6:30 PM. Leader & contact: Andrew Shaw (518-368- 5974 or pilotads@hotmail.com)
~*JOY Girls (girls and their moms) - 6:30 PM. Leader & contact: Jackie Boehm (413-212-0862 or
boehm.jaclyn@gmail.com
)
~*Youth Fellowship - meets every other Monday at 7:00 PM. Leaders Ben & Jackie Boehm. Contact: Ben Boehm 413-212-3315
bboem@berkshireinstitute.org
. Starting: September 18.
* Groups meet every other week.
Tuesday
~ Choir Rehearsals – 7:00 PM
Weekly B
ible Studies
Monday
~
Ladies Bible Study, Discerning the Voice of God
by Priscilla Shirer. 7:00-830pm, fellowship at 6:30pm with new format this fall. Meeting on the BICS porch. Leader: Deb Rodgers. (Questions contact Deb:
WithHisHandonMe@gmail.com
.) All ladies welcome! Starting in October.
Tuesday
~Lenox. "Early Birds". Topic:
Rightly Handling the Word of God
. Place: Hope Church. Time: 7:00-8:00 AM. Leader: Pres. Steve Brown. Contact: mzikan@hopechurchlenox.com
~East Lee. Topic:
Book of Colossians
. Open to all. Place: Jim & Jamie Ramondetta's, 205 Chestnut Street, Lee. Time: 7:00 PM. Leader: Pastor Doug Foss. Contact: Jamie Ramondetta
Wednesday
~ East Chatham, NY. Topic:
The Doctrines of Grace in John
by Dr. Steve Lawson. Open to all. Place: Haakonsen's,153 Barnegat Road, East Chatham, NY. Time: 7:00 PM. Leader: Pastor Doug Foss. Contact: Sandy Haakonsen
~Friday
Hope Institute for Theological Training:
~New Build International Antioch School Course
Course Name:
Covenants, Unity of Scripture, and Biblical Worldview
Meeting Day: Friday. Meeting Time: 6-8 P.M.
Instructor: Pastor Sam Cobb
Meeting Place: Hope Church Youth Room Cost: Book $75