Announcements
Hope Church Family News & Events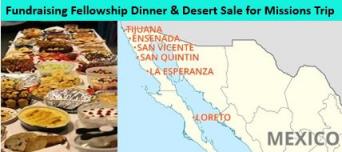 Mexico Mission Trip Fellowship Lunch and Dessert Auction Sun, Sept 8.
This is the main fund-raising opportunity for our people going on the short term missions trip to Mexico Oct 31 to Nov 9. We will give an overview of the trip and opportunities we hope to have to serve the people of Mexico. We are looking for both potluck dishes and desserts we can auction. There will be a sign up at the back of the church. Please contact Stacey Crowe or Bruce Cutter with any questions.
(The cost of the missions trip with flights is about $1,200 per person, currently we have 10 people).
Note, as of 8/9, the trip is still open to new participants, contact Bruce Cutter soon.
U
sed Clothing -
Don't forget to drop off your used clothing in the clothing shed located in the parking lot. (No household items.) Money from this project goes to the missionary emergency fund.
Summer Concert to benifit Africa Connect. The Winnard Family Band

playes Christian and Gospel music - beautiful, easy sound; exceptional musicians and vocalists, every one of them, with amazing harmonies. The concert is at Sue Choquette's home at 165 Main Rd, Tyringham, MA. Please contact Sue Choquette with any questions.
T
he website for Africa Connect is here.
Carnival Fundraiser
Saturday, August 17th, 2019
11AM - 3:00 PM
Hope Church, Lenox, MA

All proceeds will benefit the Felicity Southard Adoption Fund.

We're almost a week away from the big day! We are so excited!!
Please join us next Saturday from 11am-3pm for a fun, family-friendly day at Hope Church. If you cannot make it, but want to show your support, please consider making a tax-deductible monetary donation.
http://bit.ly/FelicitySouthardAdoption
*Donating an AUCTION BASKET?

1.Please deliver your 'basket' to Hope Church by next THURSDAY, August 15. The library door (covered entrance, down the hallway on the right, through the hallway door, first door on your right) should be unlocked to leave your items there.
2. Please include an ITEMIZED LIST of what is in your donated basket.
3. If you have any questions or need to arrange an alternative delivery, please contact me.
I may be posting pictures of the themed baskets on our Facebook event page (click here) before the event, so be on the lookout 🧐 for some teasers. We've got some great items donated!
Thank you all for your support. I speak on the behalf of my family- It is truly amazing and humbling to know there are so many who love Felicity! See you soon!

New Hope Church Apparel Store.
Did you know Hope Church now has an apparel store? Pastor Mike Tuttle has been working with
ApparelNow
to make available this on-line store to purchase a wide range of clothing for infants through adults. They offer hats, sports clothing, blankets, cups, etc. You can choose your colors, and all come with the Hope Church Logo. Hope Church earns a 12% profit from every sale. Profits will be dedicated to the Hope Church account for unexpected missionary needs.
To access the store simply click on
Apparel Store.
(apparelnow.com/hope-church-apparel).
Hope Church Weekly Schedule
Sunday
~ 9:30 AM - Sunday School Classes for all ages.
~ 12:30 PM - Single Ladies Lunch Group -
meets the third Sunday of the month, immediately after worship service in the library, for a time of fellowship and prayer. Open to women of all ages.
Monday
~
6:30-8:00 PM - Joyful Heroes Children's Ministry
- Group meets every other week. Contacts: Jackie Boehm (
boehmjaclyn@gmail.com
), Andrew Shaw (
pilotads@hotmail.com
)
Tuesday
~ 7:00 PM - Sanctuary Choir Rehearsal.
Bible Studies
Tuesday
~ "
Early Birds
" - 7:00 AM - Topic: "
Rightly Handling God's Word
". Leader: Steve Brown. Place: Hope Church. Contact: Marcia Zikan, 413-637-2212 or Steve Brown 413-243-4720.
~
East Lee.
Topic:
1 & 2 Peter.
Open to all. Place: Jim & Jamie Ramondetta, 205 Chestnut Street, Lee. Time: 6:30 PM. Leader: Pastor Doug Foss. Contact: Jamie Ramondetta (
jvrjhr@aol.com
or 243-0775).
Wednesday
~
East Chatham, NY.
Topic
: Book of Galatians.
Open to all. Place: Haakonsen,153 Barnegat Road, East Chatham, NY. Time: 7:00 PM. Leader: Pastor Doug Foss. Contact: Sandy Haakonsen (
educatus123@gmail.com
or 518-392-0408)
Hope Church Sermons are now available in two formats, Full Service and Sermon Alone
. Both are also available in CD format by completing the request form located in the pews.
Click here to bring you to the two formats in the download section of the website.
Sunday School
Classes for all ages!
9:30 ~ 10:30 Each Sunday
---------------------------------------------------------------------------------------
Children's Department ~ Eris Kennedy
Nursery – 24 months: Suzanne & Deb Ross, Dorinda Shaw
Pre-school: K: Sheri & Caroline Smith -
Elementary: Grades 1-3: Joann Merle
Grades 4-6: Arielle Tuttle & Bekah Kelley
--------------------------------------------------------------------------------------
Adult Department (Includes Jr. & Sr. High) ~ Pastor Sam Cobb
New Classes
Click here Class Descriptions
Roman Catholicism: Pastor Doug (Begins April 14)
Promise Plan of God Old Testament: Andy Smith & Ben Boehm
First Principles Series 1, Books 1-2: Christopher Greene
First Principles Series 2, Books 1-2: Pastor Sam Cobb
12 Ordinary Men, A Study in the Life of the Disciples: Roy Andersen

Hope Church has a gift.

Free access to

Right Now Media

, a huge, streaming, online, access-on-any-device library of over 10,000 video Bible studies, leadership videos, kids shows and more.



Click here to visit the website and join the Hope Church sponsered service

To sum it up — it's like the Netflix of Bible study videos. You will have FREE access to thousands of video resources to help you with parenting, marriage, discipleship and more. It includes content for all ages and stages of life, and all of your family members are invited to set up their own accounts as well.
E-mails were sent out with a link to start the service.

Simply click the link above to start the service

. Please contact Pastor Sam with any questions
Hope World Evangelism ~ Support our Missionaries with Used Clothing
There is a new way to help your Hope Church Missionaries as well as distribute good used clothing that is used worldwide.
Click here for Details.