Announcements
Hope Church Family News & Events
Men's Breakfast
- "Fellas! Join us Saturday October 12th at 7:30 AM for Men's breakfast. Food, fellowship, manliness. Feel free to invite a friend or family member, all ages welcome! Speaker Steve Brown"
Lenox Food Pantry - Personal Care items needed:
Thank you for helping provide food the Lenox food pantry. The food pantry helps individuals and families make ends meet as they go through some temporary difficult times. This month we will not be collecting food. The food pantry would like us to provide personal care items. We are looking for regular sized shampoo, conditioner, soap, toothpaste and toothbrushes. Item will be collected until October 13th .
If you have travel or trial size items we can make sure they get to agencies such as Soldier On or shelters.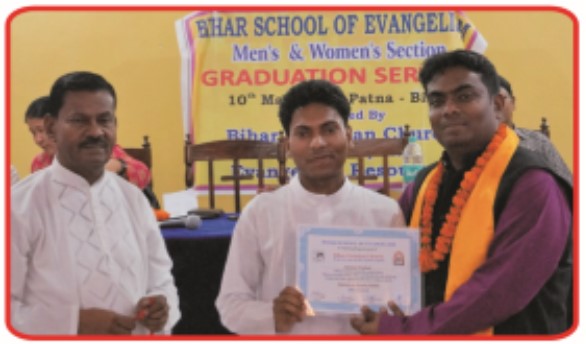 Daniel Ponraj and his wife Asangla to visit Hope Church, Sunday, Oct 13.
After a brief introduction during service, all are invited to an informal meeting after service in the youth room with refreshments to meet the couple and learn more about plans for their ministry going forward. Rev. S.D. Ponraj had sent an announcement to Hope introducing Bishop Daniel Ponraj, his eldest son as the newly elected CEO of Bihar Christian Church. In it he said
"Officially I will hand over my office in the first week of March 2020".
This is a picture of Daniel with his dad giving a graduation certificate to a student in July. The Elders and Missions team will also be spending time with Daniel and Asangla as they candidate as possible new Hope Church missionaries.
The 2019 Annual Missions conference will be held on Sunday, October 20
. Craig and Kristi Libby from Mexico Medical Ministries will be our featured speaker and will provide the Sunday Message. We will be having a fellowship lunch. Mexico Medical Ministries and Hope Church have maintained a very close partnership with many from Hope Church participating in multiple short term missions trips to Mexico for over 25 years. There will be a sign up for the fellowship lunch to be held that day going around as we get closer to the date with more details on other conference events to be provided as we get closer.
Word of Life Women's Retreat information From Judy Andersen:
A few of us have been at tending Word Of Life women's conference in the fall in the past and I want to see if any others are interested. Conference details are at Word Of Life.com fall retreat for women. We would be looking to go the first weekend which is October 25-27. The conference fee is $170 which includes six meals, shared room accommodation is extra and the options are on the website. Women are welcome to call Judy at 841-7751 or email
jsma22@gmail.com
if you're interested.
New Bible Study, East Chatham Bible Study begins Wednesdays
at 7pm . Place: Haakonsen House, 153 Barnegat Road, East Chatham. Leader: Pastor Doug Foss. Topic:
Knowing God
by J.I. Packer. Contact: Sandy Haakonsen 518-755-1833 or
educatus123@gmail.co
m
Prayer Sheet Updates:
We have a lot of requests on our prayer sheet that have not been updated in a long time. Please take some time this week and next to check the list that has been emailed to you and give us an update as to whether people should stay on the list or be removed. If we don't hear from you, we will start removing names. We realize that some requests are for cancer patients and other long term illnesses, but we would just like to know if the names should stay on the list. Thank you for your help in trying to keep this list current.
The 2019 Annual Mission's conference will be held on Sunday, October 20. Craig and Kristi Libby from Mexico Medical Ministries will be our featured speaker and will provide the Sunday Message. They will be joining us for a Hope Church fellowship lunch. Mexico Medcial Ministries and Hope Church hae maintained a very close partnership with many from Hope Church participating in short term missions trips to Mexico for over 25 years. Many others at Hope prepare crafts and gifts for the children of Mexico and support participants going on the missions trips.
There will be a sign up sheet asking Hope Members to help prepare a part of the potluck meal going around on three Sunday's prior to the event. More details will be given in October.
Possible Fall Women's conference is in the planning stage.
Fall Women's Retreat at Word of Life Conference Center
Scroon Lake, NY October 25 - 27
Word of Life Website & Information.
Cost: $170 retreat + $75-$100 room (based on double occupancy)
*
Minimum deposit of $50 is due upon registration.
Please Contact Judy Anderson if interested rjsma22@gmail.com

New Hope Church Apparel Store.
Did you know Hope Church now has an apparel store? Pastor Mike Tuttle has been working with
ApparelNow
to make available this on-line store to purchase a wide range of clothing for infants through adults. They offer hats, sports clothing, blankets, cups, etc. You can choose your colors, and all come with the Hope Church Logo. Hope Church earns a 12% profit from every sale. Profits will be dedicated to the Hope Church account for unexpected missionary needs.
To access the store simply click on
Apparel Store.
(apparelnow.com/hope-church-apparel).
Hope Church Weekly Schedule
Sunday
~ 9:30 AM - Sunday School Classes for all ages.
~ 12:30 PM - Single Ladies Lunch Group -
meets the third Sunday of the month, immediately after worship service in the library, for a time of fellowship and prayer. Open to women of all ages.
Monday
~
6:30-8:00 PM - Joyful Heroes Children's Ministry
- Group meets every other week. Contacts: Jackie Boehm (
boehmjaclyn@gmail.com
), Andrew Shaw (
pilotads@hotmail.com
)
Tuesday
~ 7:00 PM - Sanctuary Choir Rehearsal.
Bible Study
Wednesday
~
East Chatham, NY.
Topic
: Book of Galatians.
Open to all. Place: Haakonsen,153 Barnegat Road, East Chatham, NY. Time: 7:00 PM. Leader: Pastor Doug Foss. Contact: Sandy Haakonsen (
educatus123@gmail.com
or 518-392-0408)
Hope Church Sermons are now available in two formats, Full Service and Sermon Alone
. Both are also available in CD format by completing the request form located in the pews.
Click here to bring you to the two formats in the download section of the website.

Hope Church has a gift.

Free access to

Right Now Media

, a huge, streaming, online, access-on-any-device library of over 10,000 video Bible studies, leadership videos, kids shows and more.



Click here to visit the website and join the Hope Church sponsered service

To sum it up — it's like the Netflix of Bible study videos. You will have FREE access to thousands of video resources to help you with parenting, marriage, discipleship and more. It includes content for all ages and stages of life, and all of your family members are invited to set up their own accounts as well.
E-mails were sent out with a link to start the service.

Simply click the link above to start the service

. Please contact Pastor Sam with any questions
Hope World Evangelism ~ Support our Missionaries with Used Clothing
There is a new way to help your Hope Church Missionaries as well as distribute good used clothing that is used worldwide.
Click here for Details.