Announcements
Girls Night Out!

Friday

,
August, 17
- at
6:30 pm to 8:30 pm.
A Night Under the Stars at
9 Crystal Street Lenox Dale
.
Bring a lawn chair and see Kelsey to sign up to bring either graham crackers, marshmallows or chocolate bar to make s'mores. Be prepared to share your favorite Psalm or Bible verse with the group.
Christian Center meal
Saturday,
August 18

.
It is a great opportunity for ministry and fellowship. If you are available to come and help prepare and serve the meal, (and maybe help with a few small projects) please contact Stacey Crowe at
holycrowe@gmail.com
or 413-553-3539.
Senior Adult Fellowship Summer Outing

Tuesday,
August 21

.
We are planning to visit the Martin Van Buren House in Kinderhook, NY; Ooms Dairy Farm in Chatham (Annie McHugh's brother's farm); and the Ooms Conservation Area for a picnic lunch. We have not completed all the plans for the day. Bring your own lunch (and something to share). Cost: minimal fee for gas. Signup sheet is posted on the bulletin board. We need to know by
Sunday, Aug. 19
if you plan to attend so we can plan transportation. (BICS van is not available.)
Sight & Sound Theaters presents "Moses" on the Big screen in theaters in Albany and West Springfield on September 13 & 15. Their productions are for the whole family to enjoy. For more information go to the Sight & Sound Theaters web site or mosesevent.com
Tim Zimmerman & The King's Brass
Thursday, August 23, 2018 at 7:00 PM
"Tim Zimmerman and the King's Brass provide Innovative worship for young and old alike through the best in sacred brass music."
No admission charged - offering will be received.
Start planning who you will invite to join you for a fun evening of music.
Click for more on the Kings Brass and Sample Music
Rest and Restore Men's Retreat
September 21st-23rd
Grab some friends and join us at Camp Spofford. Step outside of the norm for a chance to dig deeper into your faith with Aaron Syvertsen. Breathe in the fresh air, get out on the lake, play some games, have some fun and see what God can do. Rest and Restore.
Details and Registration on the website.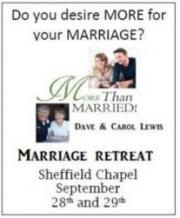 Marriage Retreat, Sheffield Chapel, Sept. 28 & 29.
Each of us experience feelings of loneliness. We can be with our spouse daily, and yet still feel alone! It's possible to have been married for years, and even get along well, but still not enjoy deep connections. Do you ever long for more? Even strong relationships can benefit from enrichment. The More Than Married Workshop will provide the practical how-to's for removing aloneness, deepening connection, and giving God glory in your most important relationships!
Click here to download the Marriage Retreat Brochure for more information
Summer Adult Sunday School Mini-Series
Starts July 1st.
Why We Trust the Bible: A New Teaching Series from Stephen Nichols
Rather than forsake us, God sent His Son, Jesus, revealing and recording His redemptive purposes in an inspired, inerrant, and authoritative source: the Bible. Will you accept its authority?
In this new six-part teaching series, Why We Trust the Bible, Dr. Stephen Nichols equips Christians to know why they can trust Scripture in an age that continually issues attacks against it. He explains the origin of the Bible, why we have sixty-six books, its sufficiency for life and godliness, and more.
Six, 23-Minute Messages:
·
· Revelation: Where Would We Be Without It?
· The Authority of Scripture, Part 1: The Doctrine of Inspiration
· The Authority of Scripture, Part 2: The Doctrine of Inerrancy
· Why Sixty-Six Books? The Development of the Canon
· Why So Many Interpretations? The Clarity of Scripture & Interpretation
· Scripture for Life: The Sufficiency of Scripture
Hope World Evangelism ~ Support our Missionaries with Used Clothing
There is a new way to help your Hope Church Missionaries as well as distribute good used clothing that is used worldwide.
Click here for Details.
CD's of Morning Worship
- are available for $3.00. Request forms can be found in the pew rack or guest register and may be left in the folder holder outside the computer room. You may also listen to the
sermons on the web at
www.hopechurchlenox.com
.