Koinonea Fellowships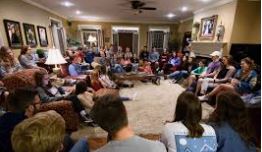 Koinonia Fellowships
Koinonia groups function as a multi-generational expression of the larger Body od Hope Church and are centered around the Word of God (Apostles' Teaching), Fellowship, the Lord's Supper, and Prayer. These weekly groups exist to equip believers to grow in Christ, encourage and serve one another through the development of meaningful relationships, accountability and the use of our gifts; and provide witness to neighbors and friends by sharing and modeling the Gospel of Jesus Christ in community through evangelism and benevolence.

Koinonia Fellowship Information:

Sunday:
Toby & Cameo Casey's, 25 West Center Road, West Stockbridge. Time: 4:00 PM. Leader: Toby Casey

Tuesday:
Jim & Jamie Ramondetta's, 205 Chestnut Street, Lee.
Time 5:30 M. Leader: Pastor Doug Foss.

Wednesday:
Caleb & Arielle Tuttle's, 1425 West Street, Pittsfield.
Time: 6:00 PM. Leader: Pastor Sam Cobb.

Friday:
Christopher & Corrine Greene's, 20 Spadina Parkway, Pittsfield. Time: 5:30 PM. Leader: Christopher Greene

Ben & Jackie Boehm, 112 Melbourne Road, Pittsfield.
Time: 5:30 PM. Leader: Pastor Mike Tuttle.