Hope Missionary Current News and Events

Each Month the Hope Church Missions group meets to review news from our Foreign Missionaries, to communicate with them and to develop updates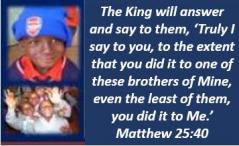 Sue Choquette gave an update Jan 26 on her 5 week missions trip to Kenya
Below is the Africa Connect Website and an update on the new school
Africa Connect Website
Celebrating New Beginnings in 2020!
Since hearing 19 months ago that the construction of a new superhighway would cause the demolition of the preschool that Africa Connect supports in Kitasle, Kenya, the road to stabilization has had many turns! In October, as the children celebrated the close of the school year, national and political events cut off hope for classes to continue in the Graceway buildings for the coming new year. With little time, land prices soring and confidence in clear title transference dropping, we sought help from a long-time Kenyan friend who recently has been ordained as pastor and built a church in Kitale. Our Kenyon partners agreed to work with him, and construction of the new preschool began in early December; on the same day, with no new requests to our donors, the funds that were needed were graciously donated in full! The staff is working hard to have the school registered and ready for use when classes open in January.
The school will be better than ever, with 3 classrooms, a kitchen with secure storage, an office, upgraded toilets and water system, and plenty of room for the children to play – and all for $13,000!
We trust this little school will continue to be a lighthouse for God's compassion for the poor; not only to provide education to needy children, but to be an effective tool in the hands of the local church to impact the children's families and community with the love of Jesus, both in Word and in practical help.
We also trust this move will provide new beginning for implementing strategies that enhance parental responsibility and, in time project self-sufficiency. We greatly appreciate your prayers for all of this!
With wishes for a merry Christmas, and deep gratitude for your partnership from the Africa Connect Team
!
Dr. Russ & Beth White, Kenya



We Treat, Jesus Heals
is the motto of Tenwek hospital in Bombet, Kenya. Tenwek hospital is a ministry of World Gosepel Mission and Africa Gospel Church. From its humble beginning as a single-nurse dispensary in 1937, Tenwek has grown to a 260 bed hospital offerning specialty care to patients from local and regional areas as well as from throught the country.

Russ spends the majority of his time teaching and discipling young Christian doctors who are studying surgery at Tenwek Hospital. He is also actively involved in the life of the local church. Specific ministry roles include: Chief of Surgery, director of Residency Training Program in General Surgery, director of Medical Education, director of Cardiac Surgery, and director of Surgical Research Program at Tenwek; lay leader at Bethesda Africa Gospel Church; and board member of Kenya Highlands Evangelical University.
Beth: One of Beth's main roles is to support Russ in his work from home. She is also actively involved in the discipleship of some of the female doctors in training and hosts a number of Bible studies for the wives of doctors in training. She takes care of their family; homeschools their youngest child, Anna; and teaches in a homeschooling coop. Additionally, Beth hosts and entertains visitors who come to serve at Tenwek and is involved in care and outreach to the indigent in the Tenwek area.

Below is a Video of their work, family and lives in Kenya and a new
Hearts for Children - Tenwek Hospital Video that describes some of their work.

Mike & Janet Hencher,
Mike was born in London and with his wife Janet, raised five children. Before being involved full-time in Christian work, Mike was a civil engineer. In 1972 he joined the office staff of the Movement for World Evangelisation and then worked with the Don Summers Evangelistic Association as an evangelist. For nine years he worked in fellowship with Counties, working mainly in Gloucestershire. In 1978 the Christian Television Association began its work in his home town in Bristol and this involvement with the media led to being asked to broadcast on Trans World Radio and local radio stations.
From 1995 he studied at The University of Gloucestershire, obtaining a BA (Hons) in Theology and an MA in Biblical Studies. Recently, under the auspices of The Missing Peace Trust, he has written books and produced DVDs and Online videos working with Foxvideo Productions. He is now devoting as much time as possible to assisting the work of Western Way Chapel Dymock and working on the Tom Roberts Adventure Centre project.

Mission Statement


The Associates for Biblical Research exists to serve the global Church of Jesus Christ through ministries that affirm and promote the full authority, reliability and inerrancy of the Scriptures.

Dr. Bryant Wood became a Christian while an undergraduate in college. After working as a nuclear engineer at General Electric for thirteen years, God called him to serve in the area of Biblical archaeology and he returned to school for training in this field. After earning a Master's degree in Biblical history from the University of Michigan, he went on to the University of Toronto where he received a Ph.D. in Syro-Palestinian archaeology.
Dr. Bryant's work demonstrates the truth of the Biblical account of the capture of Jericho (Joshua 2–6) and received international media attention. ABR is open for participation in excavations. Roy Anderson often works with them in some of their excavations.