St Pauly Clothing Shed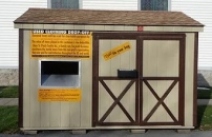 Hope World Evangelism ~ Support our Missionaries with Used Clothing
There is a new way to help your Hope Church Missionaries as well as distribute good used clothing that is used worldwide.
We have worked with St. Pauly Textile, Inc. to place a clothing drop off shed at the end of the parking lot on the left. Simply bring good used clothing, shoes, boots, stuffed animals in a plastic bag and place it in the clothing chute.
The Hope Church Emergency Missions fund receives funding from St. Pauly Textile based weight. This can amount to $200 - $300 a month. When an unexpected need from our missionary teams occurs, the Missions team works with the pastor to identify & meet critical needs.
The Emergency Fund is a part of budget, but our missionaries minister in many distant & challenging locations. Emergent help is often needed exceeding what we have. This is a way to replenish the fund and truly partner with our Missionary Teams as a Sending Church.
A few recent examples include;
Helping the Jacob & Beth Devine bring their daughter from Papua New Guinea to Australia for needed medical care. Helping Dr. Russell White rebuild a part of Tenwek hospital in Kenya and provide repairs after a fire.
Helping Sue Choquette care for children also in Kenya when working with Africa connect.
Helping the Operation Nehemiah group handle unexpected costs returning to the missions field.
** There are receipts for Tax Free Donations in a mailbox on the shed**
Information from St. Pauly Textile;
What to Drop-off:
Used Clothing, shoes, sneakers, belts, purses, linens, pillowcases, blankets, curtains, and stuffed animals.
What Not to Drop-off:
Furniture, electronics, household items, books, toys, garbage, pillows, rags, and fabric scraps.
Why people choose to drop off clothing at a clothing shed:
1) Our sheds are well-built and very attractive.
2) Community members know this project is sponsored directly by the organization that hosts the shed...a local, community oriented non-profit.
3) We guarantee that the sheds remain clean and attractive. Every week we monitor and empty the sheds. Year round our service team is available to perform maintenance on the sheds.
How this works:
Community members drop off clothing at a clothing shed located at a community organization.
We (St. Pauly Textile, Inc.) purchase the clothing from the local community organization. The community organization uses the money that it receives from us in order to support its mission or complete important community projects. We sell and distribute the clothing that we purchase all over the US and World to organizations such as foreign governments, relief organizations, the U.N., private companies and the U.S. government.
This is the most cost effective way for these organizations around the globe to get large quantities of clothing for people in communities that they represent. All clothing is sold for pennies on the pound by St. Pauly Textile, Inc., in large quantities at a time