January 3 Update, After a long trip Jacob and Beth have arrived and joined the Hope Church family for Sunday Service Jan 3.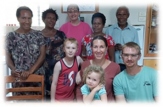 Jacob and Beth Devine, Serving in Papua New Guinea.
Jacob & Beth Devine are missionaries with Ethnos 360. They work to support the establishment of indigenous churches in tribal people groups, as well as translation of the Bible, by serving the NTM Center. They have two children, Jonathan & Naomi.
"We are still running the Guesthouse at the mission headquarters in Goroka, Papua New Guinea. We will go on home assignment in Dec 2020. We will be located in Nova Scotia Canada and MA, USA for 2021 so that we can share our ministry with friends, family, and churches in 2021."
We return to US for then Nova Scotia for 6 Months for Home Assignment in December 2020.
January Update, Back in US for Extended Home Assignment.
We have seen once more that OUR FATHER brings people, blessings and change of circumstances along our way to take care of us each step of the way! So we know that he will guide and direct us as we fly up to Canada as well. The rules keep changing as we prepare to fly on Jan 18th to Halifax, NS…. Covid tests needed to board the plane, car seat dilemmas, overnights changing, and rental car issues. We are also thinking through and preparing for our 2 week quarantine in Nova Scotia. We are also thankful for a wonderful home for us to live in for quarantine and the following months until we move to MA for 6 months in July.
Thank you all for praying for our trip around the world! We appreciate all your prayers and we are so thankful we get to watch God provide and work in amazing ways! And there is one more amazing God thing that I want to mention… He is healing my sister Sarah of breast cancer and keeping her focus on HIM along the way. She is an amazing testimony of God's grace. We are very excited to see many of you in Nova Scotia after quarantine…. See ya'll in February! We have just updated our blog with photos of Our trip around the world, Christmas in Boston, Driving!, Good times in POM, SNOW! Fun with Grandma and Grandpa, Shopping…. So you can check out the latest photos of our life at
www.kukmerinakamdaman.blogspot.com
Because of His Love and Grace,
Jacob and Beth, Jonathan & Naomi Devine